i thought i'd post these cutie patootie pics of my great friend Lisa's daughter Hadassah...


today, our young model is sporting the ever popular Baby Boat Neck Sweater from Debbie Bliss' pattern book 'Baby Knits for Beginners'. using only the best yarn, this hand knit was made using Blue Sky Alpacas Organic Cotton, in their Willow colorway. this cuddly sweater is sure to please even the choosiest of children.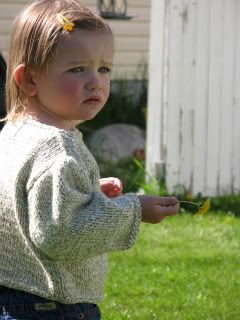 notice how the garment hugs just enough but still leaves room enough to grow? whether your little one is rough-and-tumble or a stop-to-smell-the-flowers type, they'll enjoy wearing this little number in warm and cool weather alike.


this sweater is a 'must have' for any couture savvy wardrobe. pair it up with a sweet little beanie or bonnet and you'll be ready to face the fashion runway of life!

thank you so much Lisa and Hadassah for that adorable photo shoot!