i wanted to be cool and learn how to make a sock. with all the super-stupendous sock yarn and those oh-so-loverly patterns to choose from, how could i not? so, naturally, i bought a fabulous yarn, the best needles, i took a class at the best LYS, and you were born. i was so proud!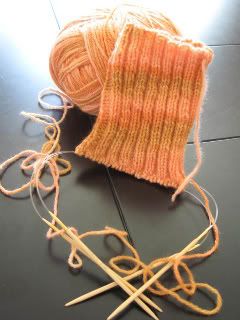 it started out so sweet and innocent. i would knit and knit and knit and knit and knit to see how fast you would grow. even though it took awhile at first, i still knit and knit and knit and knit and knit. all that knitting and you had hardly grown at ALL! so, i put you aside. it was hard, i know, but i was frustrated. you understand, don't you? i felt bad for neglecting you, so i started taking you with me. i went to see the Yarn Harlot in all that very bad weather and you were there in my hands my dear socky. no one else got to go. just you. and wasn't it totally fun? i have taken you to the Kelley Farm to visit our friends and the animals. you like my friends don't you? i even bring you with if we go somewhere and i'm not driving. you're the first thing i put in my bag. i will probably even take you camping with us. so you see, I AM TRYING TO BOND WITH YOU DEAR LITTLE SOCKY! really i am. it's not you, it's me. *sigh*
after that, i decided i may not be the sock knitter type. i know, i know, but i just can't seem to stay focused on this one sock so how on Earth am i going to make another one? i'm just not sure how to make this work. does this happen with all first timers? how do you get through? is it just me? is it the sock? *sigh*
at least the yarn is really cool...maybe it could be a shawl?