i am very late on posting about our adventures at the Sheep Shearing Festival at Shepherd's Choice a few weekends ago and i sincerely apologize for that! i will try to get to as much as i can this next week so you will have plenty to gander at. (in other words i took a LOT of pics!) so check back often. you won't want to miss a thing!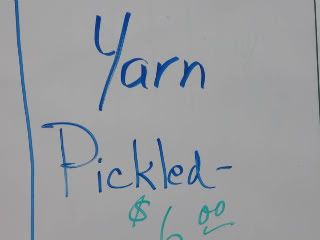 First off, i want to post about this very cool, hip way to dye yarn. from the creative minds of
Lynne & Nancy
we have none other than...Pickled Yarn. Yes, you read that correctly. Pickled Yarn. it's the simple process of putting a skein of yarn, mine was Lily Cotton, adding some dye and water, slapping a lid on and waiting. a lot like the way we can, or pickle, our veggies. after a few days, you take out the yarn, rinse it well, hang it to dry and voila! a one-of-a-kind masterpiece!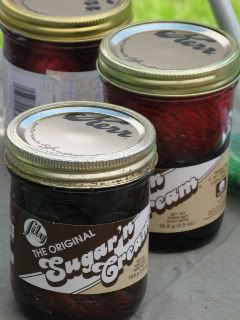 more Pickled Yarn pics to come...