1.30.2008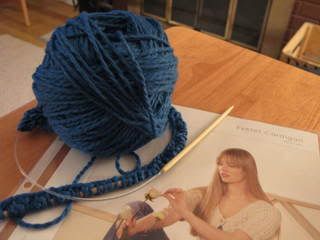 my daughter loves blue. my daughter could use a great cardigan. BSA has great yarn and a great pattern. need i say more?

so the top sock is the one from my Sock Class and the second one i just HAD to start (from the same pattern) b/c of how fabulous the colorway is (from Fearless Fibers-Sand and Sun). i immediately balled it and got started. it's turning out rather loverly i think. i'm not as fond of the first one. it's ok and all, but it's knitting up very slow. i kinda just grabbed a skein w/out really thinking about it and making sure i REALLY liked it and wanted it...oh well, live and learn right? i WILL finish at least the one so i can say 'i finished it'. this may be the first addition to the 'NGFT' pile (Never Gonna Finish That). i will most likely finish the Sand and Sun to make a pair cause it's just such a great color!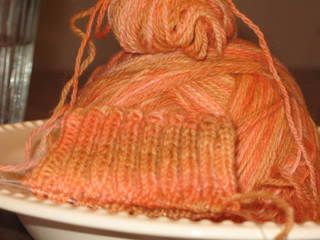 1.24.2008
so i have taken some time to just randomly peruse some other knitting blogs for encouragement and inspiration to pick up the needles more frequently. of course i found some great things and people. a lot of the showcased items were, needless to say, extraordinary. i think i am actually starting to get a bit more pumped up about this whole knitting thing. who knows, maybe one of these days i'll actually become a full fledged knitter!

:)
1.18.2008
so this last summer i took a class at Shepherd's Choice called 'Socks on Circulars'. Because of my schedule, i was only able to go to the first class. oh well, it gave me enough info to start a sock. yes, a sock. it is coming along very slowly. it is so tedious. i am determined to finish it someday though. and then add it's mate. i've been trying to sneak a few rows here and there but really, it's not my favorite thing to knit. it IS a good filler. something to do in between. it's nice to just do a few rows of straight knitting, no purling, just knitting. the tricky part is the seam, but if you pay attention, it's pretty easy to get used to keeping it snug so there aren't any (many) gaps. i'll have to take a pic to show my progress sometime soon. at least it looks like a sock and not something random!
:)
ok, after a long summer and busy fall, i think i'm back in action. so, i shall soon be posting a bit more regularly...i hope.

i'm hoping to start a new knitting chapter by finishing up a few UFO's and then start tackling some projects i have been wanting to get to for myself. sooooo, we'll see where we go from here!