my new firsts in knitting are cables, mittens and yarn other than BSA or sock yarn...

so, i took a class to learn how to do cables cause i was under the impression they were very hard to do. well, they sure looked that way to me. i mean, come on, they're all weaving in and out of eachother and twisted and stuff. they must take time and talent to make right? right? ok, i was wrong...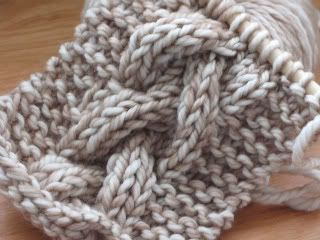 not too bad huh? i know i'll be doing more cabling as they are very easy and very cool. the wool was nice to work with too. it's Rowan Big Wool Fusion. it's soft enough (i guess i have a sensory thing-must be soft AND wearable) and pretty easy to knit with. very decent. i got it to go with the new mittens i made...
i made the mittens with Lamb's Pride Bulky and Madil's Kid Seta. very easy knit and not too shabby on the softness factor. pretty decent colors to pick from too. some good yarn for this kind of knitting.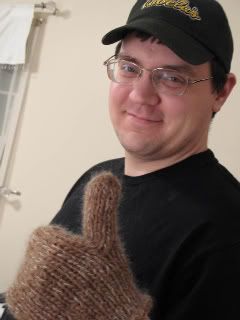 as you can see, i gave the mitts to my honey so i think the scarf will have to go to someone else. it's just not the right match for him. he needs a more masculine scarf. i guess i should ask if he would even wear one! come to think of it i'm not sure i've seen him wear one...huh.