...there was the garter ridge scarf. and it was good.

the rite of passage for every new knitter-wanna-be. *sigh*
'memories...all alone in the moonlight...la da da de da dah dah...hm hm hm hm hm hmmmmm...'
oh, sorry, i'm back now.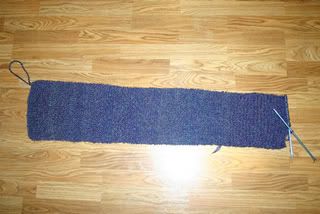 and here is my very first one. as you can see, there are already signs of my numerous talents with fibers and sticks. notice the uneven lines and extra bumps/loops for that 'textured' look? and the raw 'triangular end stretch' that i accomplished without foreknowledge? i know, i know. that's some pure prowess right there people.

of course for the 'full effect', here i am modelling it for all it's worth (a quarter maybe? any takers? anyone? any ebay-ers?)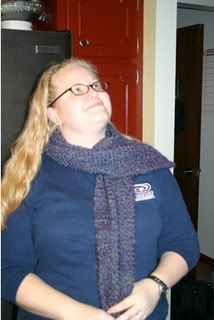 i want to say this was a candid 'i love what you've done to your ceiling Ali' look, but it's not. it's hard to tell, but i was actually trying to pose. yep, there's a reason i'm not a model (and you thought it was b/c i'm short-silly you!). don't get me wrong. the pay is good, but not worth the neck strain for poses like this one--which are common (a little known fact right there for ya). and of course the blue-on-blue really makes the bluesness of the yarn POP out atcha.

well, i don't want to overwhelm everyone with too many goodies. hopefully i've whet someone's appetite. so check back every so often for a little treat!
~traci